Best Email Marketing Examples for Insurance Companies
Email marketing is a digital marketing channel used to introduce new products, offer discounts, generate leads and raise brand awareness. It can help insurance companies engage customers on their email list
To be effective, insurance agents can adopt email marketing best practices such as personalization, segmentation, and mobile optimization. In this article, we'll highlight some insurance email marketing examples along with tactics to improve the user experience.
How Insurance Companies Benefit From Email Marketing
Email marketing is a powerful tool for connecting with your potential clients. According to Adobe, the average professional in the United States spends at least three hours a day checking work email and two hours a day on personal email. This time is an opportunity for you to build customer relationships. Below are additional benefits of email marketing for insurance agents.
Personalization: Email marketing allows you to create targeted content. Including a recipient's name or remembering important dates, such as birthdays and anniversaries, can improve engagement.
Feedback: With email, you can conduct customer satisfaction surveys and get feedback from customers. For example, you can ask customers how satisfied they are with your insurance agency's customer service.
Sales: You can improve sales by using relevant email content that encourages your audience to take action. You may introduce new products to potential customers or offer referral rewards.
Email Marketing Campaign Best Practices
Your email messages will differ based on your desired outcome and target audience. Review these best practices to improve your email campaigns.
Offer Personalized Content
You can deepen trust with customers with a personalized experience. Offer content such as industry expert interviews and how-to guides. 
Creating custom emails for specific segments can enhance engagement. For instance, you can use dynamic content based on the geographic location of the customer. Commercial business insurance requirements differ by state, so create specific content for individual states.
Start With Subject Lines
The subject line is the first thing a client sees before opening your emails. Get your email subscriber's attention by using their name, mentioning a hot topic, or revealing a deadline. 
Asking open-ended questions can also pique the curiosity of your customers. Be sure to keep your subject lines under 60 characters.
Write Compelling Calls to Action
Your emails should inspire recipients to action in your customer journey. Use action verbs along with a value proposition to get people to click. Avoid using complex color schemes to ensure your call-to-action buttons are visible to all readers.
Optimize for Mobile
People are often accessing their emails through different devices and applications. Litmus found that nearly 43% of people use mobile devices to check their email. Work with your email marketing manager to ensure your campaigns display correctly on mobile.
Consider Timing
The perfect time to send an email varies depending on the industry, geographical location, and audience. The frequency and timing of your emails affect open rates. Typically, monthly emails have the highest open rates. Campaign Monitor reports that emails sent on Monday, Tuesday and Wednesday have the highest open rates.
4 Insurance Email Marketing Examples
An effective email involves several elements, including the content and design layout. Check out these email examples to gain new ideas for your campaigns.
1. Personalized Content Example
In this example, the brand emails customers personalized quotes. This customized content reminds customers of the information they provided. It also notifies customers that an insurance agent is preparing their quote.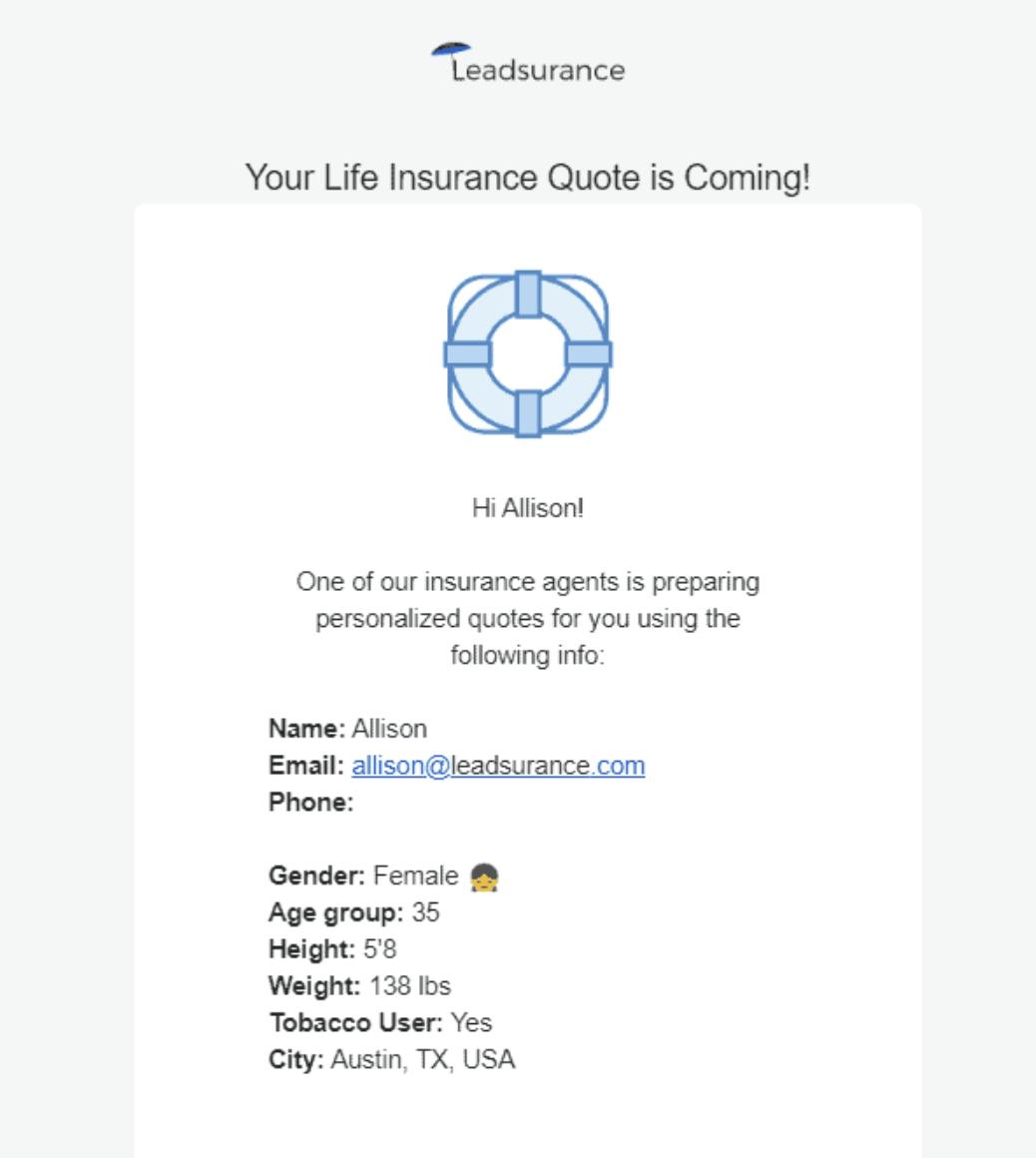 When using dynamic emails, you'll want to use content specific to the recipient. The content should be relevant to their needs and not a regurgitation of information. Overall, personalized content can help improve the customer experience.
2. Targeted Content Example
You can send targeted emails based on your customer's website activity, location, and purchase history. In this email, the brand addresses the message with the person's first name.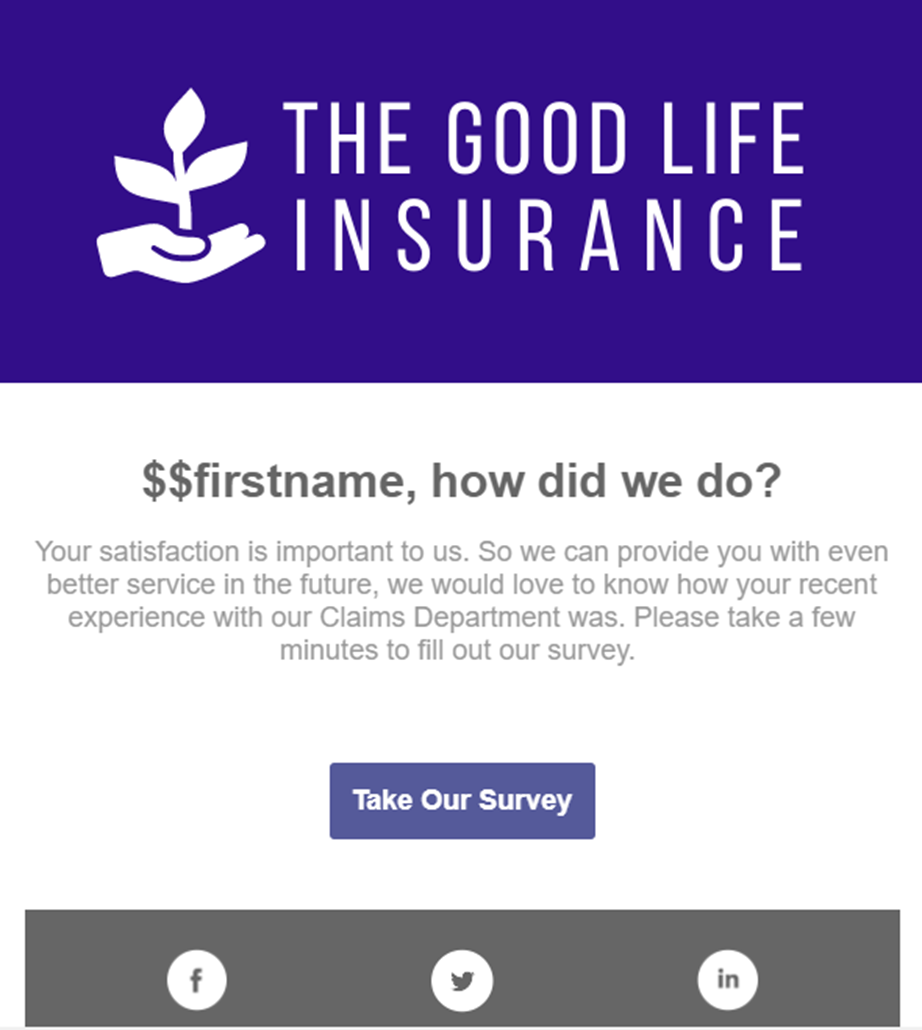 Moreover, this email isn't sent to just anyone. The recipient recently had contact with the company's claims department. As a response, the brand is sending an email to get their feedback through a short survey. ‍
3. Call To Action Example
A clear call to action primes your email recipients for the next step in the customer journey. In this example, the brand encourages its readers to learn more about its policy coverages.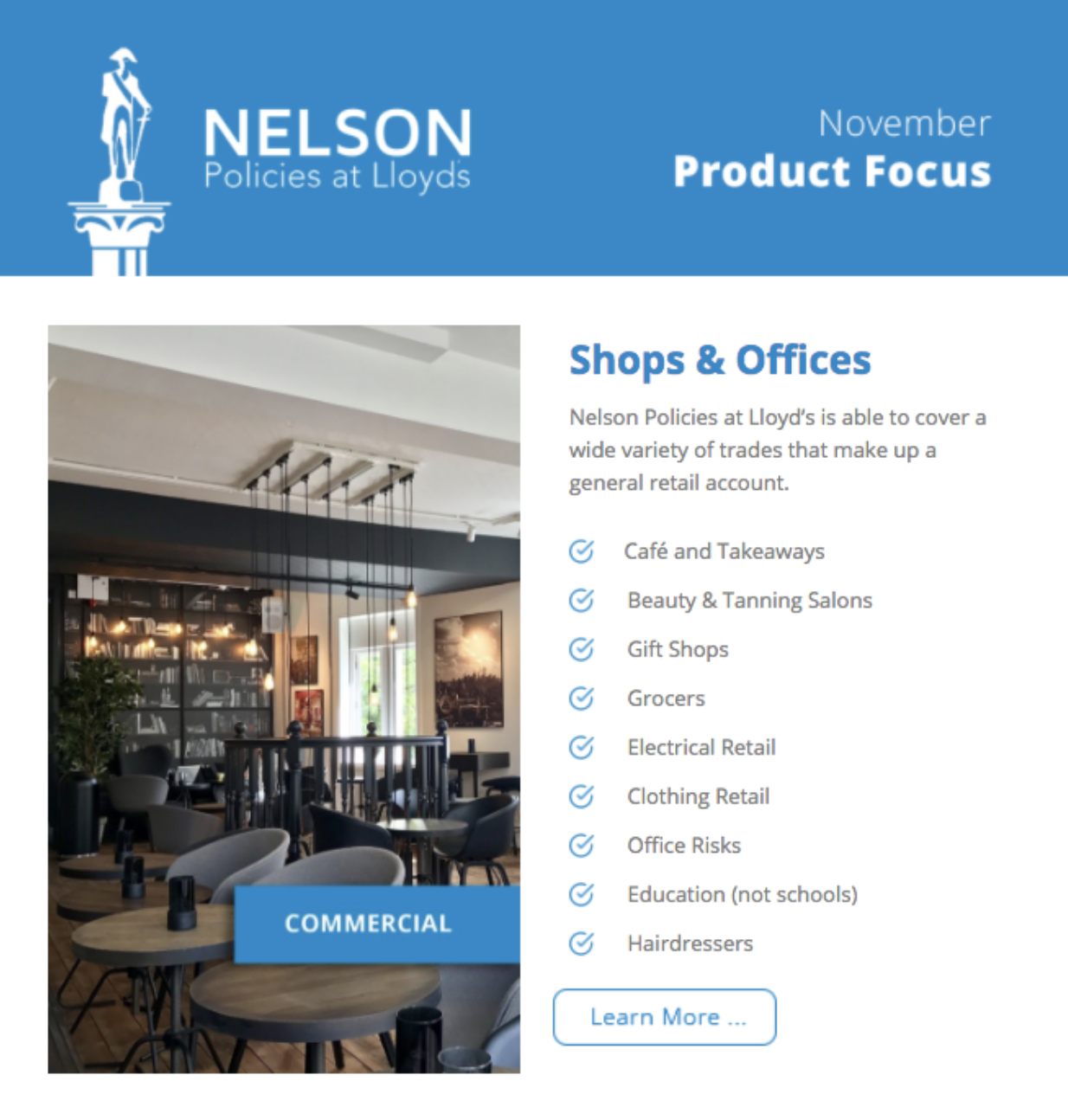 The call-to-action text is specific to the corresponding content. White space surrounds the button to increase visibility. 
4. Mobile Optimization Example
People aren't always stuck behind a desk viewing their emails. Today's technology makes it possible for your customers to open and read their emails on mobile devices. Your emails need to adjust to these smaller screens.‍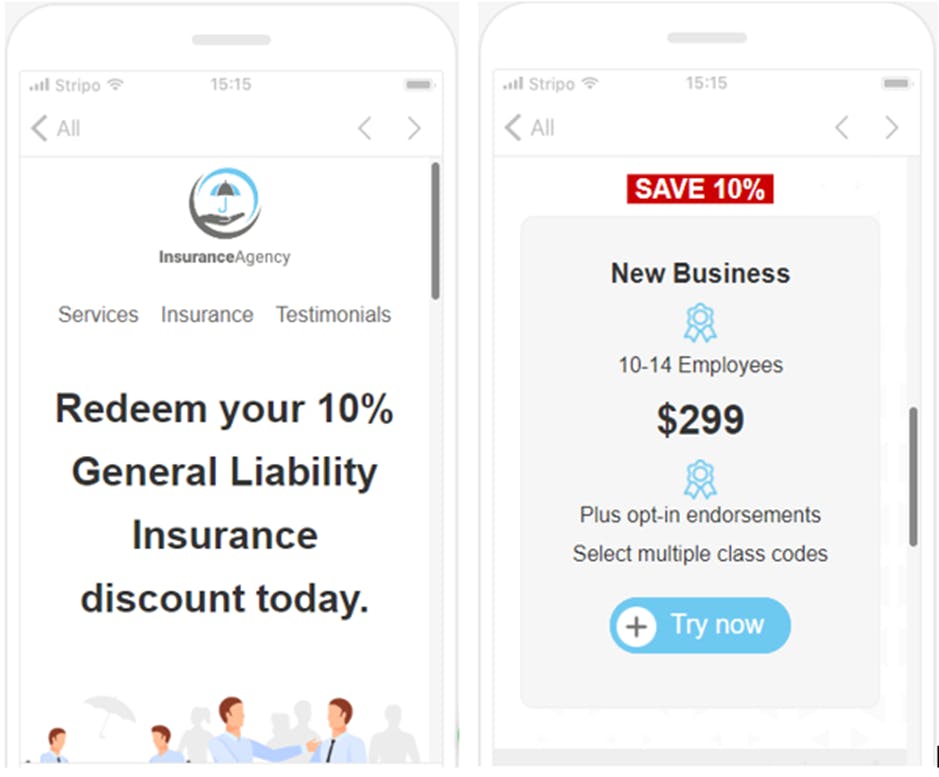 This illustration shows an email compatible with mobile screens, designed with a responsive template. The text and images fit within the margins of the device.‍
You'll want to use short phrases to convey your message. A padded CTA button also makes it easier for your email recipients to click.‍
Transform Your Email Marketing Campaigns
Email marketing is a hidden gem in the insurance industry. With these best email marketing examples, you can build a sales-driven campaign for your agency.
‍